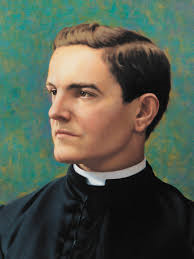 I carry rosary with me.  But I also carry a couple of other things with me, one is the Divine Mercy and the other is my love for Fr. McGivney.  When it comes to Fr. McGivney I'm all in.  I think that today would have been one of Fr. McGivney's days; the Feast of the Good Shepherd.  I understand Fr. McGivney.  He was, is and always will be nothing but a simple parish priest.  What I think makes this man more remarkable is that he listened to the Holy Spirit.  He Shepherd his flock just as the Lord is the one true Shepherd of all the faithful.  Fr. McGivney gave all of himself.  He died from pneumonia at the early age of 38!  To this day, I believe with al my heart that he is still fill his role of Shepherd.  He wants to guide us to the Lord.  He is here for us.
Let me share a recent story about Fr. McGivney.  Marty, the Council and the staff at HNOJ had lost our rosaries that we give to the Passion Play kids.  With only one day to share Marty called me and said Dave is there anything you can do, we need 125 rosaries for the kids, and 125 of the "How to pray the Rosary cards".  Marty was really concerned.  I said don't worry about it.  I said I will take care of it.  Before I started my quest I simply said Fr. McGivney we need your help.  I can't do this.  I'm going to need your help.  I made two phone calls.  The first was to Home Office and ordered the rosary cards and had them FedEx overnight to Marty.  Easy part done.  The next call I made was to a Brother Knight who is with the Franciscans Brothers of Peace in St. Paul.  I told him we, Good Samaritan Council needed 125 for the kids.  He said that's all?  I thought this was going to be super hard.  Not a problem; stop on by and I will have them ready for you.
I drove over to the rectory, picked them up and drove them up to Marty's so that he had them for the next day.
Guys, what looked like an impossible task Marty, for myself or for anyone was not a challenge for Fr. McGivney.  He did not take it as a challenge, he simply said anything I can do to Shepherd the children (or anyone else for that matter) to the Lord – is my delight.  Thank you for asking me for my help.
Brothers, next time you need someone to carry a request to our Lord, why not ask Fr. McGivney to present it to the Lord on your behalf.
Vivat Jesus,
David Novack
Your humble Field Agent