I'm always mystified by the three beads at the beginning of the Rosary; what I was taught and have referred to in past writings as the Faith, Ho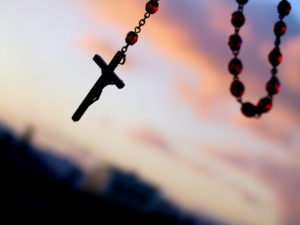 pe and Charity beads. This week's Gospel message was one focused on HOPE, so I reflected and meditated on it to make it the topic of this article. Tis the season of HOPE. In fulfillment of scripture, God gave us the life, death and resurrection of Jesus and the HOPE of His second coming for our salvation. When baby Jesus was presented in the temple to the Holy Simeon and High Priestess, Anna, all their HOPE came to be true. There are parallels that I will stretch to prove a point or two, but I want to emphasize that Jesus didn't need HOPE, He was and is HOPE for all of time and all of mankind.
In general terms, HOPE is a very broad topic and takes on many forms. HOPE can fade. It can be tampered with and falsified. HOPE fluctuates like the stock market, for some. HOPE is emotional capital that we humans invest in certain beliefs, causes or perceived positive changes. It's healthy to have HOPE, but can be unhealthy to have too much in some cases. Sports fans have abundant HOPE. This past election season demonstrated the biggest swing of HOPE I've ever witnessed. Strictly in my opinion, most people place too much HOPE in politicians. As KC's we must always leave partisan politics at the door, which I intend to do here in sighting an example of two very different kinds of HOPE.
For the most part, elections are always split in two with one side barely winning regardless of party. This year, the DFL had massive amounts of HOPE and momentum that would suggest their HOPE was going even higher with the surety of electing their next vision of HOPE. It was "money in the bank", as they say. The GOP didn't have much HOPE as the mainstream media and their own common sense directed them to "not get their HOPE's up". It seemed pretty obvious to all who would win the election.
Both candidates were the least liked and least trusted ever to have run for public office, but the DFL had many more times the HOPE of the GOP. When the election results came in, the party of HOPE had a stock market crash, free-fall of emotional capital where all HOPE was dashed in the flash of time. The GOP had an unexpected, simultaneous nuclear explosion of HOPE, sky-rocket up past the falling DFL's HOPE. Both sides were in complete disbelief and udder shock, some jumping for joy and others balled up in the fetal position, completely devastated. Never before has there ever been such a huge emotional swing of HOPE. The OMG's were at a record level on all forms of social media. America was speechless as the two HOPE's switched positions in a wild swing.
Regardless of party, should we allow ourselves to be swayed to invest that much emotional capital into media driven representations that lead to elations or convulsions over electing mere humans? As we know so well, Catholics don't always get a fair shake in the media, but that's a whole different can of worms to open. Why are we so eager to give HOPE to well-intended, fallible humans, but have to work so hard to give TRUE HOPE to Jesus? No matter what side you had HOPE in, you might now realize that you are capable of having massive amounts of HOPE. At your own election, you choose to invest your HOPE in whatever you want. Why not the one TRUE HOPE, this glorious Christmas season?